Yealink T21P E2
---
Yealink T21P E2 is a cheap unrestricted phone that works well with the SIP providers we have tried.
It is configured by using a web browser connecting to the IP address of the phones. It is also possible to configure the phone using the LCD display, but this is a bit tricky.
The phone uses DHCP as default, so if DHCP is used (this is the most common) the only thing needed is to connect an ethernet cable to the phone, and then the phone will automatically get an IP address.
The easiest method to obtain the IP address is by using the menu choice: Menu->Status. The computer that is used can be connected to the same router or switch where the phone is connected. There is also an extra ethernet port on the phone that it is possible to connect a computer to when the phone is configured. This is handy if there are no extra ethernet ports available.
The default log in is as follows:

User: admin
Password: admin
The configuration for the used account is done in the tab "Account". The phone has support for two separate lines that can be configured independently of each other. The configuration for the SIP server that is used should be entered. In the picture below the configuration is shown for the provider sip2sip.info.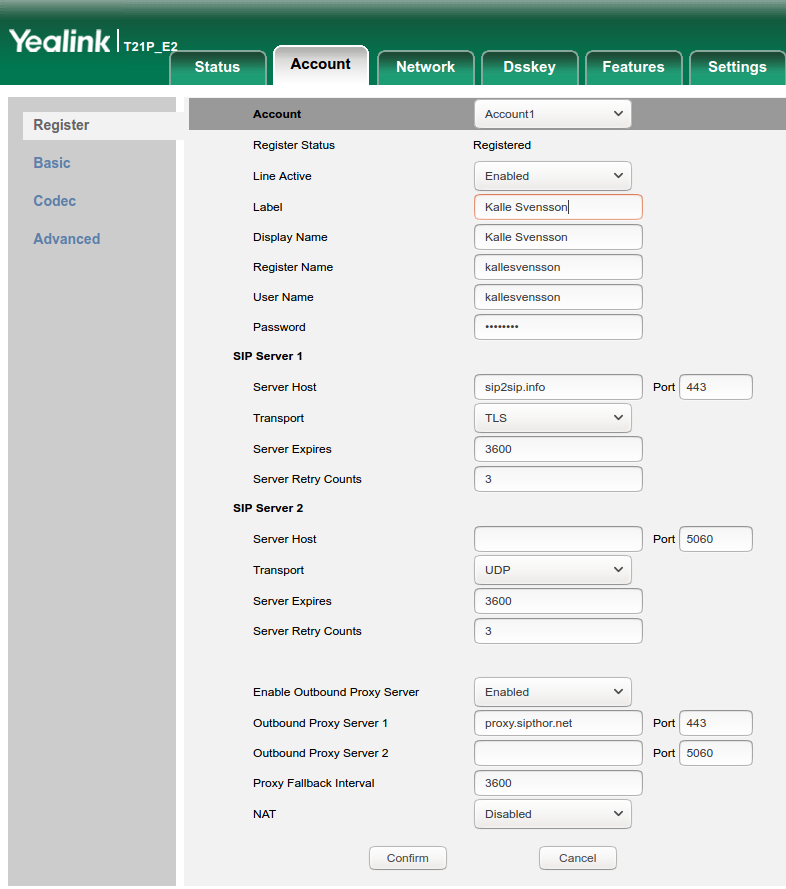 Here the account has been configured using TLS. Other alternatives are UDP och TCP. For sip2sip.info you normally do not need any specific client settings in order to make it possible for other clients to know which public IP address that phone has. But for other SIP providers other settings might need to be used, for example NAT.
The settings for sip2sip.info are as follows:

Server: sip2sip.info Port: 443
Transport: TLS
Outbound proxy: Enabled
Outbound proxy server 1: proxy.sipthor.net Port: 443
A feature that can be very useful is the answer machine that is configured with the setting MWI one the phone (Message Waiting Indicator). Which address the answer machine has depends on the SIP service provider that is used. For sip2sip.info the address is 1233@sip2sip.info. See picture: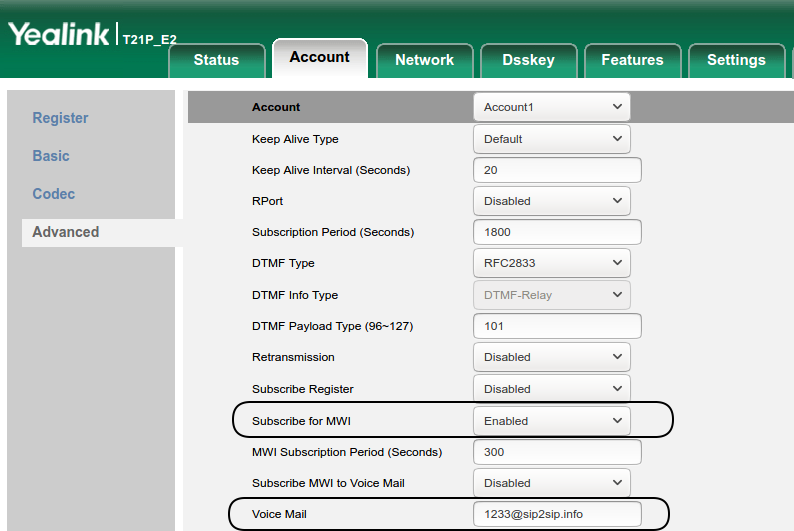 The following settings should be used to activate the answer machine:
Subscribe for MWI: Enabled
Voice mail: 1233@sip2sip.info
Note that the answer machine must be activated at the SIP service provider. For sip2sip.info this is done by logging in the the providers web pages.
The phone can be bought for about 50 USD, for example here: